New Boston Historical Society
New Boston, New Hampshire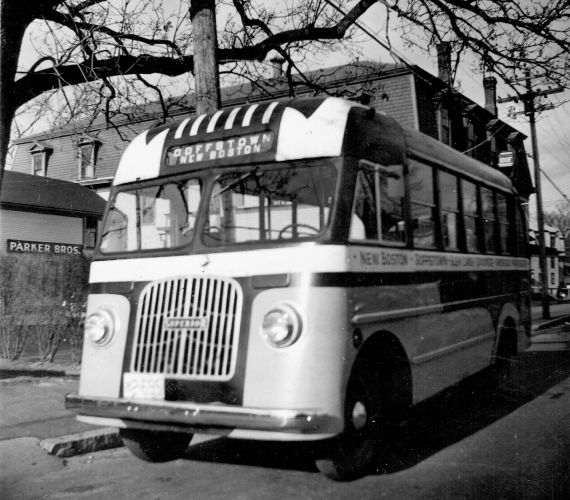 The New Boston bus waits for passengers on Main Street in Goffstown

The Goffstown-New Boston Bus

Bob Todd once wrote in his newspaper column in the New Boston Bulletin, "I have probably traveled the River Road from New Boston Village to Goffstown close to 10,000 times in my lifetime. I have hiked, bicycled, driven, and even ridden the
Sargent Bus Line
over this winding, often foggy, sometimes flooded, always beautiful link to urban areas and the services available there."
Today you can hike and bike along the river, but you cannot take a bus. What was the Sargent Bus Line and who was Mr. Sargent?
Jim Beauchemin of the Goffstown Historical Society (GHS) tells us that on November 9, 1933, "The Clayton Sargent transportation service was formed. Providing mail delivery service to New Boston and throughout Goffstown daily, Clayton was 24 years old. By 1942 he would upgrade to a modern 35 passenger transfer bus making several trips a day from Manchester to New Boston. Daily trips were made down the Goffstown Back Road which was a bumpy dirt road and hardly passable."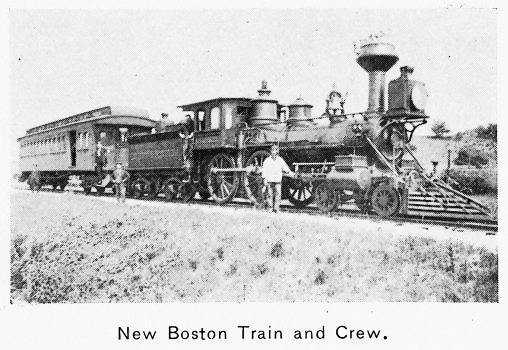 Remember that the very last passenger train left the New Boston depot in June of 1931. Ever since the
railroad
arrived in our town in 1893, the people of New Boston had grown accustomed to convenient access to larger towns and cities like Goffstown, Manchester, and Boston. Manchester was 45 minutes away by train, but it was a day's journey once the railroad stopped running, if you didn't own an automobile.
Howard Towne remembered that after the steam locomotive train service to New Boston was discontinued there was a motorized train car that ran between New Boston and Manchester for a few years, but that mustn't have been economical, compared to Clayton Sargent's bus.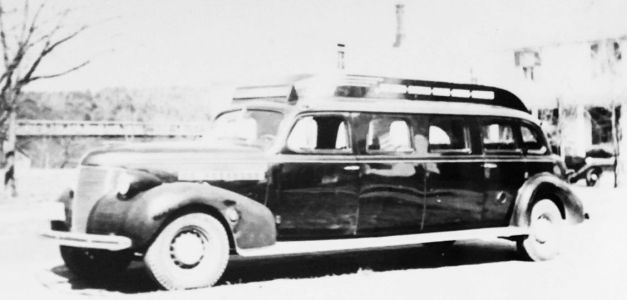 Sargent buses — photos from the GHS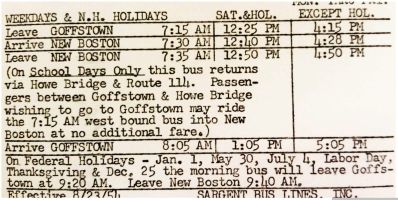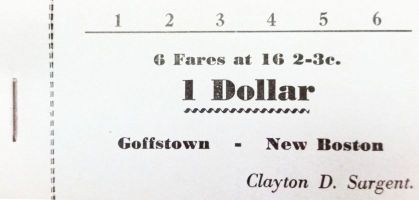 Schedule and fare book — courtesy of the Goffstown Historical Society
An item printed in New Boston's Community Bulletin in 1934, during the Depression, tells us that "Mr. Clayton Sargent, mail carrier, announces that the fare on his bus between New Boston and Goffstown has been reduced from 35 cents to 25 cents." By the time the undated fare book (above) was printed, a single ticket cost only 16 and 2/3 cents. (You paid a dollar for six rides.)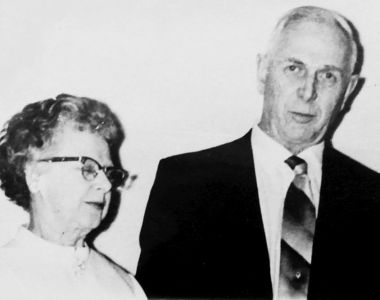 Lowelor and Clayton Sargent — GHS photo
I posted the bus photo you see at the top of this page on a Goffstown Facebook group page, and asked what people remember.
Kay Simpson wrote, "I lived in Grasmere at that time and rode that bus many times. We lived at the four corners and my father would drive my sister Dolores and I down to the bottom of Tirrell Hill to get the bus and we would attend a movie in Manchester and take the bus home where my father would pick us up and bring us home. Mr. Sargent was a nice man. It was around 1945."
Vince Whelton wrote, "As a kid I remember having a bus to take me into Manchester. It was great! But New Boston? I had to walk the 6 miles."
What do New Boston readers remember about the bus? —
Dan R. townfarm@comcast.net