New Boston Historical Society
New Boston, New Hampshire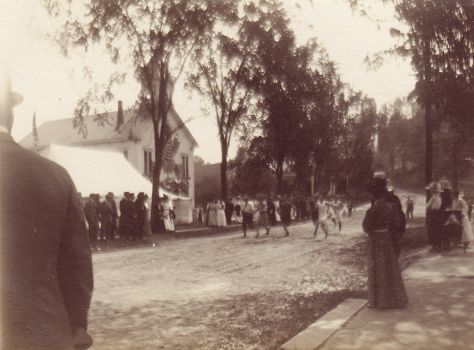 Useful Links and Site Search


Use Google Custom Search to find webpages and documents on this New Boston Historical Society website.
Enter your search text and click on the magnifying glass.


Hint: If you search for "bailey" (for example) your results may include Oliver Bailey, Robert Bailey and Bailey Pond.
Make your search more specific by searching for "oliver bailey".
Or you can exclude results containing "pond" by using a minus sign: bailey -pond





Printed and on-line resources:
History of New Boston, New Hampshire (1864) by Elliott Cogswell. 637 pages. Click on "Read Online" or download the PDF to search text.

History of Hillsborough County, New Hampshire (1885) - New Boston chapter transcribed by Janice Brown www.nh.searchroots.com

The Granite Monthly (1897) The article "New Boston - An Historical and Business Sketch" by Rev. John Erastus Wilder may be found at pages 211-241. Click on "Read Online" and move the page slider to page 211 or download the entire PDF, a large 30MB file.

About The Farm (1910) This book about the Valley View Farm in New Boston by the J. R. Whipple Company was made available to guests at Whipple's Boston hotels. Click on "Read Online" or download the PDF, a 7MB file.

New Boston (2004) by the New Boston Historical Society was published in the "Images of America" series. It is the most up-to-date history of New Boston and is an indispensable reference for anyone interested in the town's history. Click on "Preview this book" to preview its contents. The paperback book may be purchased for $19.99 at the Historical Society or the Whipple Free Library.

Winfield "Binny" Clark wrote two informative articles for the New Boston Master Plan in 2004, in addition to his 2006 inventory of the Old Mills in New Boston. Click to open PDF files about Barn Preservation or Stone Walls.

The University of New Hampshire has a digital collection of New Boston Town Reports including most but not all years from 1918 to 2012. These include Birth, Marriage and Death records, and for some years, Property Tax details.

---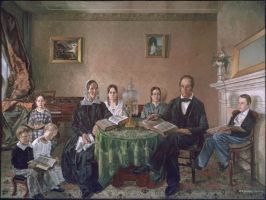 Additional on-line resources:
The 1845 painting of "The Reverend John Atwood and his Family" in the parlor of their High Street, New Boston home is in the Museum of Fine Arts in Boston, MA.
Reverend Atwood's younger son Solomon (on the left in the painting) later owned the New Boston general store that is now Dodge's Store.
Update: this family portrait may have been painted when the Atwoods lived in Concord, NH while Rev. Atwood served as State Treasurer 1843-1850. The painting hung in Atwood homes in New Boston until after Solomon died in 1915.

The Rauner Special Collections Library of Dartmouth College has a survey map of New Boston c.1740 drawn on buckskin.
See the library's blog entry and click on the map images for a detailed view.
Want more maps? The Maps page on our website contains detailed scans of several historic maps of New Boston.

During the Revolutionary War, many New Boston residents loyal to King George III migrated to the Cape Ann area of New Brunswick, near the Bay of Fundy. T.W. Acheson of the University of New Brunswick wrote an article for Acadiensis in 1997, "New Boston to New Brunswick: Anonymous Loyalists in New Hampshire", which is available as a PDF download.

In this WMUR-TV video, Fritz Wetherbee visits Frog Rock (which is in New Boston, Fritz!)

The FindAGrave.com database for the New Boston Cemetery contains over 500 entries, many with photos, entered by volunteers.
The Town of New Boston cemetery page has several downloadable maps of gravesites in the main cemetery. We regret that we have no index by name.



New Boston cemetery from across the valley

---

Other interesting websites

New Boston town & library websites:
Town of New Boston, NH
Whipple Free Library
New Boston Rail Trail

Nearby historical societies:
Historical Society of Amherst NH
Bedford Historical Society
Francestown Improvement & Historical Society (under construction)
Goffstown Historical Society
Weare Historical Society

General John Stark Scenic Byway
WMUR-TV NH Chronicle video about the General John Stark Scenic Byway.