New Boston Historical Society
New Boston, New Hampshire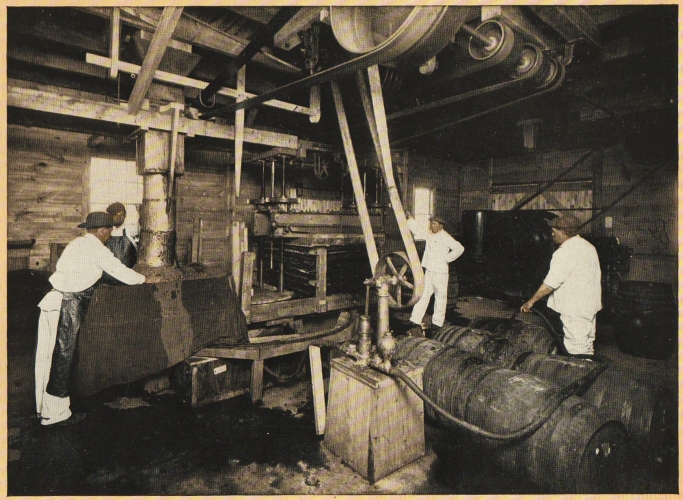 Cider press in the 1908 mill, from "About the Farm"

The Cider Mill

The Cider Mill on the Francestown Road (Route 136) just above High Street is the only mill in New Boston still in operation today. Owners Eileen and Bob Belanger and their friends press apples every Columbus Day weekend to make sweet cider for visitors.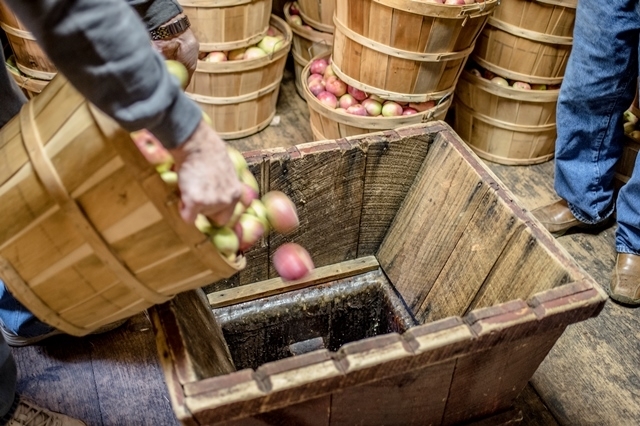 (Photos by Mary Weiss)

The mill was built in 1908 by Albert Goodwin and Jess Byam for Joseph Reed Whipple's Valley View Farm. This 2,500 acre farm supplied Whipple's hotels in Boston, Massachusetts with dairy products, pork, eggs, and cider vinegar via the New Boston Railroad. (You may read about the Valley View Farm, the New Boston Railroad, and other mills of New Boston elsewhere on this website.) The yellow brick Whipple farmhouse still stands just below the cider mill, at the intersection of Routes 136 and 77.

Bob Belanger wrote: "The design of the mill makes it well suited for its intended purpose. Built into an embankment on top of which runs a road, the building has one story on top of the hill and two on the bottom. On the first floor there is a large storage room with rows of charcoaled barrels. Thick stone walls and the insulation of the embankment keep the temperature of this room within a constant range throughout the year. This cool, moist environment is ideal to support the slow, natual aging that is necessary to properly ferment cider into vinegar."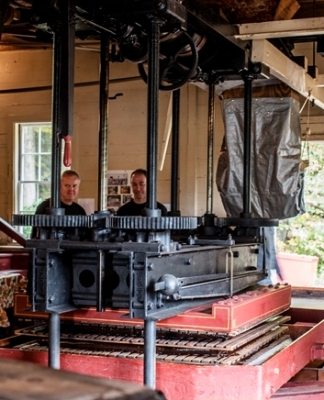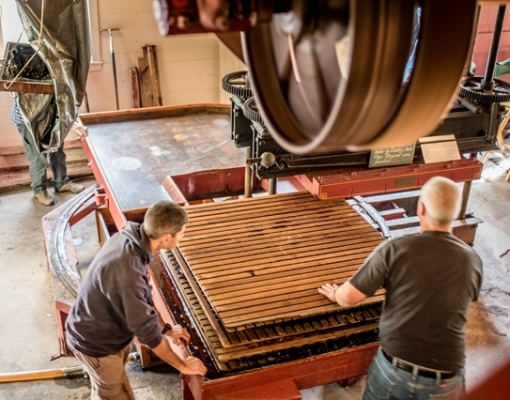 A book published by the J. R. Whipple Company, "About the Farm," explains how the vinegar was made, after sacks of cider apples were stored in the loft above the mill:
"The apples are turned through a hole in the floor into a grinder, and the ground apples then drop to the cider press. The men while at work wear clean white suits, and every care is taken to have a product free from any impurity. The cider is stored in barrels for about two years. It is then turned into large vats, and in three years from the time of making is clear pure vinegar."

Oliver Dodge reminisced about the Valley View Farm in a 1991 interview by John Bunting. When talking about the cider mill, he remembered that "Most of the apples were brought in from people all around town. Everyone had a few apple trees, years ago. Every farm had apples all around the walls and fields. They thought they couldn't live if they didn't have about so many apple trees."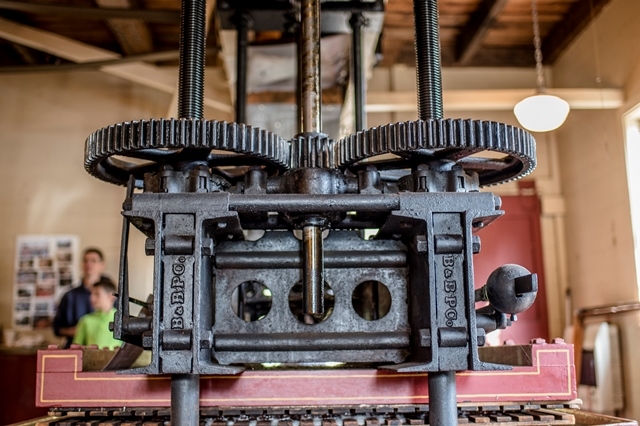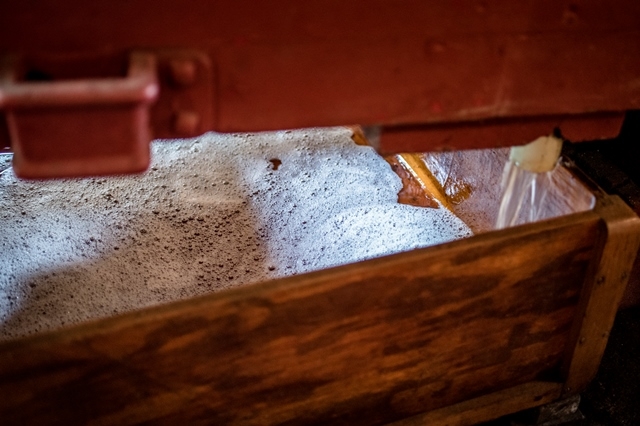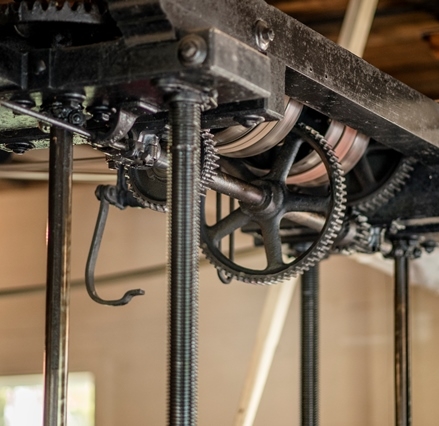 The old Cider Mill was powered by a gasoline engine at first, but it was converted to electric power later. The 100-year-old motor (made by the aptly named "Century Motor Company") is still humming away.

Paul Saltmarsh (1894-1973) operated the cider mill from 1936 until he died, first renting it from Constance Fitzgerald, then buying it in 1944. In addition to cider and vinegar, Paul was famous for his apple syrup, that he and his wife Ruth made from apple juice and "secret ingredients", which they boiled down to syrup consistency, bottled, and sold nationwide. David Stanford remembers that Paul "would tip dumptruck-loads of Macintosh apples, with leaves, bugs and stems for added panache, and out streamed the greatest apple juice I ever had."

Bob bought the mill in 1974, and he married Eileen a few years later. At the time they made organic cider vinegar which they sold to health food stores; they still have some vinegar for sale today, aged for 18 years. Now the apple press is used just one weekend a year, and the sweet cider it makes is sold to benefit the Community Church Food Pantry. Eileen says it's the old Boomer & Boschert press which makes the cider so clear and good – "like biting into an apple!" She believes that modern machines over-press the apples, resulting in cloudy cider.

Today the 1908 mill is the home of the Cider Mill Gallery, where Eileen Belanger teaches art classes.

For more information: Bob Todd wrote a wonderful description of how the cider press operates, which you may read here.
After you read Bob's article you'll want to watch a 3-minute video of the cider press in action: