New Boston Historical Society
New Boston, New Hampshire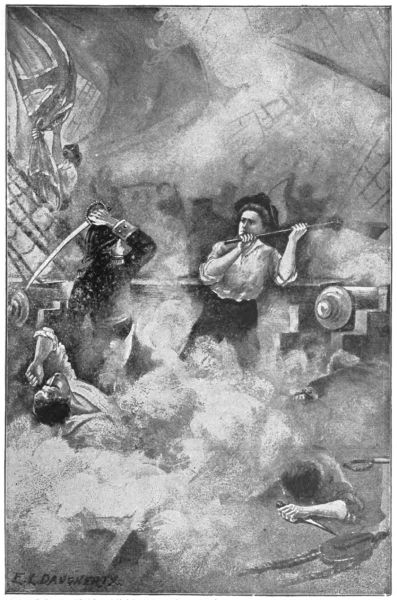 Hand-to-hand fighting on board the Margaretta
by E.L. Daugherty from Rev. Sherman's 1902 book

John McNeil and the Battle of the Margaretta 1775

The
New Boston war memorial
on the Town Green names the men and women who served our country in wars from the French and Indian War in the 18th century to the Persian Gulf War in the 20th.
There are three McNeils listed for the
Revolutionary War
: Daniel, John, and Thomas.
John McNeil
is believed to be the first American to die at sea in the Revolution; he was killed in the
Battle of the Margaretta
in 1775.
The Battle of the Margaretta is also called the Battle of Machias, but since there were two different Revolutionary War battles fought in Machias, Maine, we'll use the Margaretta name. (Incidentally, "Machias" is pronounced Ma-CHI-uss where "CHI" rhymes with "sky.")
The Revolutionary War began with the Battles of Lexington and Concord in April of 1775. By June of 1775, the British in Boston were under siege by General George Washington, and the British General Thomas Gage needed lumber from Maine to build barracks for the royal troops being sent to his aid. A schooner
HMS Margaretta
was sent to Machias. (A schooner is a sailing ship with two masts and fore-and-aft rigging; it is not a square-rigged ship like the Mayflower or the Constitution.)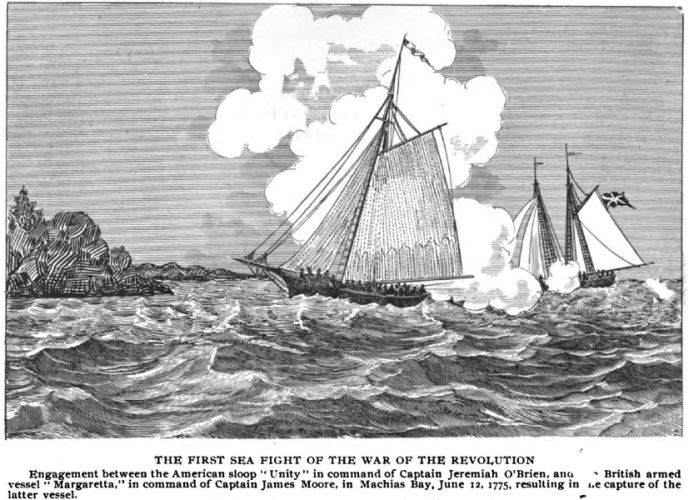 The Unity needs to turn around if it wants to catch the Margaretta
The
Margaretta
escorted two merchant ships, the
Unity
and the
Polly
, owned by Ichabod Jones of Machias. Jones was supposed to trade flour and other supplies for lumber, but many of the people of Machias did not want their lumber to go to Boston, now that the British were their enemy.
The local militia decided that they would capture the merchant Ichabod Jones to prevent him sailing away. While Jones was sitting in church one Sunday morning he spied through a window a group of men marching towards the church armed with muskets, scythes, and pitchforks. Jones quickly slipped out of the church and hid in the forest.
The militia seized Jones's ships and chased after the
Margaretta
, which fled. James Moore, commander of the
Margaretta
, had to tack his schooner while sailing downwind, which is a tricky maneuver, and he managed to break his gaff and boom. By the time he repaired his ship the militia on the
Unity
had caught up with him.
The militia men had a wall piece, which was an oversized musket with a one-inch bore. Our man John McNeil rested the wall piece on the
Unity's
windlass to steady it and took aim at the British. Alas, before he could fire his piece he was shot and killed by a one-pound ball from the
Margaretta's
swivel-gun. Nevertheless, the militia overwhelmed the crew of the
Margaretta
, who surrendered after their Captain Moore was killed.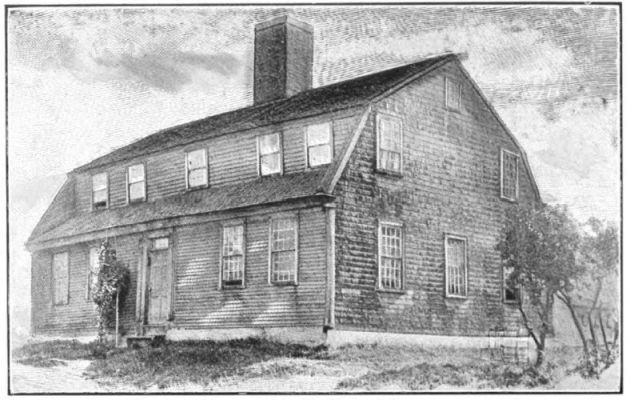 Burnham Tavern in Machias was used as a hospital after the battle
John McNeil left a widow Elizabeth Rolf McNeil and two small children plus John, Jr., who was born soon after the battle. Elizabeth was given the tea service taken from the
Margaretta
; it is now on display at the Burnham Tavern in Machias.
Why did James Moore of the
Margaretta
flee from the militia, when his ship was armed with four cannons and several swivel-guns? One account states that he had on his schooner two young ladies related to Ichabod Jones, "to one of whom Captain Moore was engaged to be married." (
Life of Captain Jeremiah O'Brien
by Rev. Andrew M. Sherman, 1902; this book also provided the engravings.)
What do we know about John McNeil? Not very much. We believe that he was one of three sons of William McNeil, who came to New Boston around 1754 from Londonderry NH. The Historical Society has received independent inquiries from three different McNeil/McNeal/MacNeill descendants over the years, and they have shared their genealogies with us.
Some sources indicate that John McNeil emigrated from Londonderry, Ireland (not NH) directly to Machias, but I'm not convinced they're correct. What suggests to me that John was a New Boston man is an interesting document written on behalf of Sarah McLean McNeil in 1837. Sarah (born in New Boston in 1755) was the widow of Daniel McNeil (1753-1829) also of New Boston, and she petitioned for a pension based on Daniel's service in the Revolutionary War. In her petition she mentions that Daniel had a brother who was killed at Machias — I assume that was John — and another brother who served throughout the war (presumably Thomas).


Excerpt from Sarah McNeil's petition
Daniel McNeil's service in the war was eventful. According to Sarah's petition, Daniel fought at the Battles of Bunker Hill, White Plains, and Bennington (under General John Stark). He was a Marine on board the ship Essex that captured two prizes, before Daniel himself was captured and put in prison for a while. Sarah's brother also fought at Bunker Hill, where he received a bullet in his arm.
Sarah's petition stated that she was in her 82nd year, that she knew of no persons now living who served with her husband, and that she had no documentary evidence to support her claims. She also had no certificate of marriage: "The clergyman who performed the ceremony has been dead for more than thirty years." Sarah's request for a pension was denied.
—Dan R. 2021