New Boston Historical Society
New Boston, New Hampshire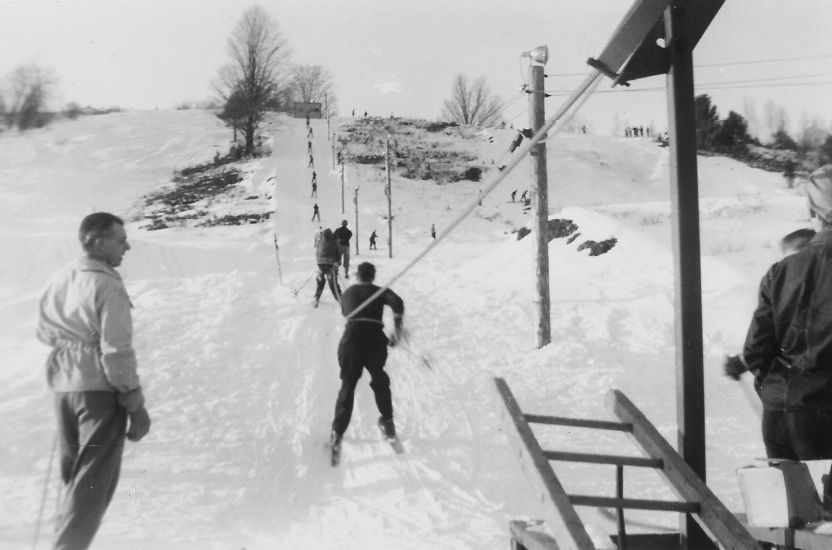 Rope tow at Pinball Hill Ski Area

Skiing in New Boston

Seventy or eighty years ago in New Boston, winters were colder, hills were higher, and there were
two
ski areas in our town! They were the New Boston Skiway and the Pinball Hill ski area.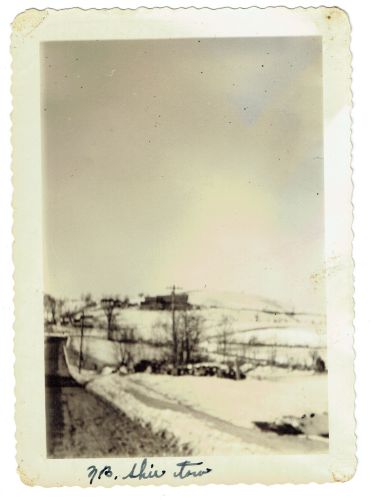 New Boston Skiway — 1930s
Betsy Moody tells me that the New Boston Skiway was on the Welch farm that you see on your right as you go up Tucker Mill Road from the Francestown Road. (Betsy has taught hundreds of New Boston children how to ski, but
not
on the New Boston Skiway, which closed before she was born.)
According to the New England Lost Ski Areas Project (
NELSAP
), "The New Boston Skiway opened in the late 1930's with a 1000 foot rope tow. By 1938, the area had added a second tow, giving a combined length of 1800'. This was a fairly large area, with 200 acres, runs up to 3000 feet, and a vertical drop of 300 feet." The Skiway was operated by the Plymouth Ski Club.
Pinball Hill ski area 1947-1953
New Boston's second ski area was on Pinball Hill, which rises up from what today is the 4-H Fairgrounds. This ski area was owned and operated by Walter O. Kirsch from 1947-1953. He had an engine house at the top of the hill with a V-8 Ford engine that powered the 750 foot rope tow, a warming hut at the bottom of the hill, and three ski slopes.
The book
Images of America - New Boston
says: "During the course of the ski season, one would need to purchase many pairs of mittens, as gripping the rough rope took its toll."
NELSAP
says: "The area was operated Saturday, Sunday, and holidays, but could be opened other times on arrangement."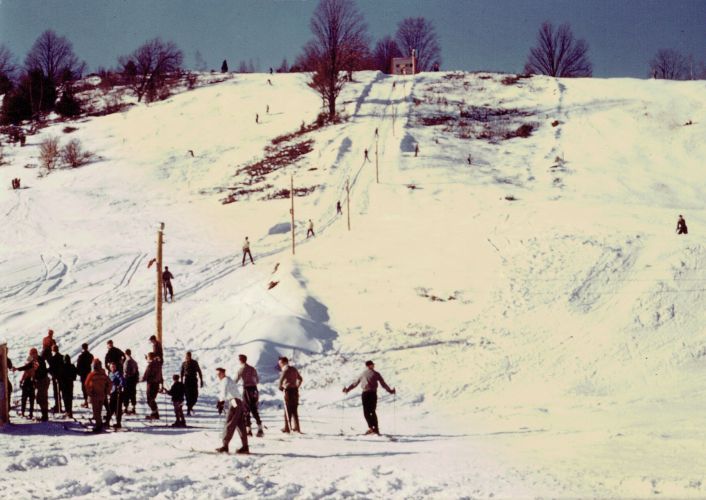 Pinball Hill Ski Area - 1949
In a 2002 letter to the Historical Society, Walter's son Walter L. Kirsch wrote that his father owned a New Boston mill that made apple boxes for local farmers and the Boston market. In wintertime, Walter O. found himself without much to do, so he came up with the idea of a ski-tow business. He rented the south-east side of Pinball Hill and cleared it of trees and junipers with the help of his employees, especially Ted Fiske, who drove a Caterpillar bulldozer along the steep slopes.
The main hill was lighted with flood lights, and night skiing was very popular. Walter L. remembers that his father charged a dollar or two for the use of the rope tow, and his mother and her friends cooked food for sale in the warming hut. After a heavy snow, boys packed down the snow by side-stepping up the hill on their skis, for which they were rewarded with a free day of skiing. Unfortunately, for two winters in a row there wasn't much snow, and the southeast exposure made that snow melt quickly, so Walter O. Kirsch gave up the business.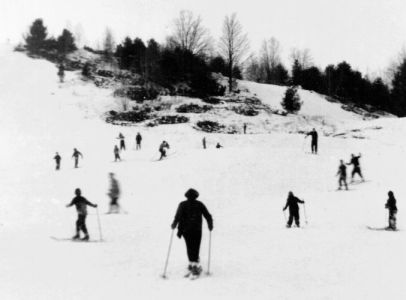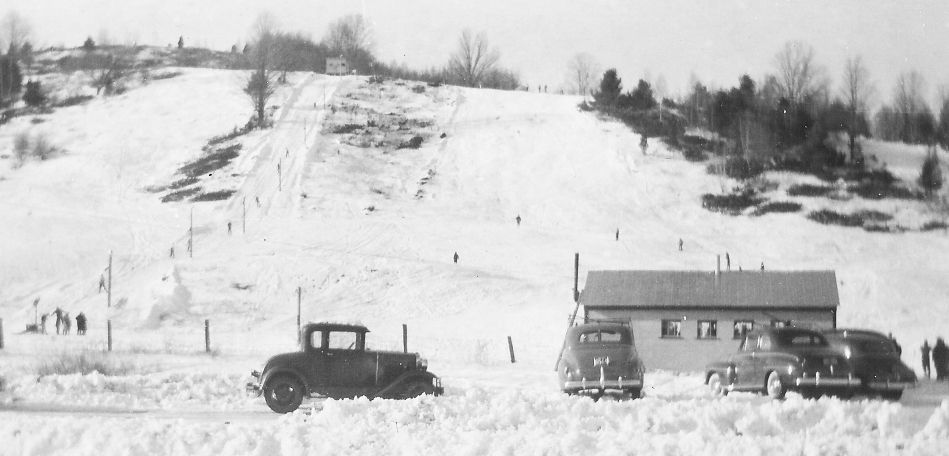 Pinball Hill Ski Area and warming hut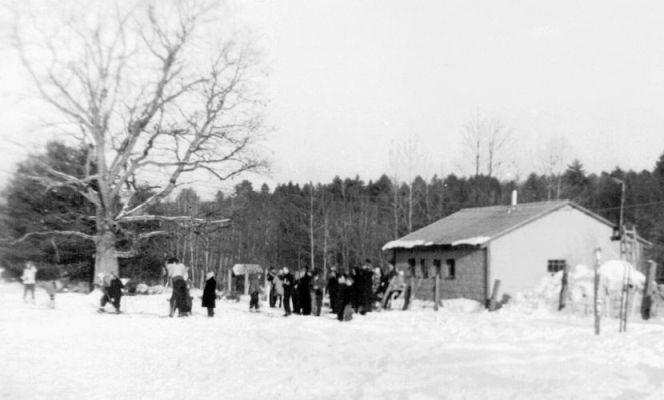 The Warming Hut
Today, Pinball Hill is once again overgrown with trees. What became of the warming hut? It went to Goffstown!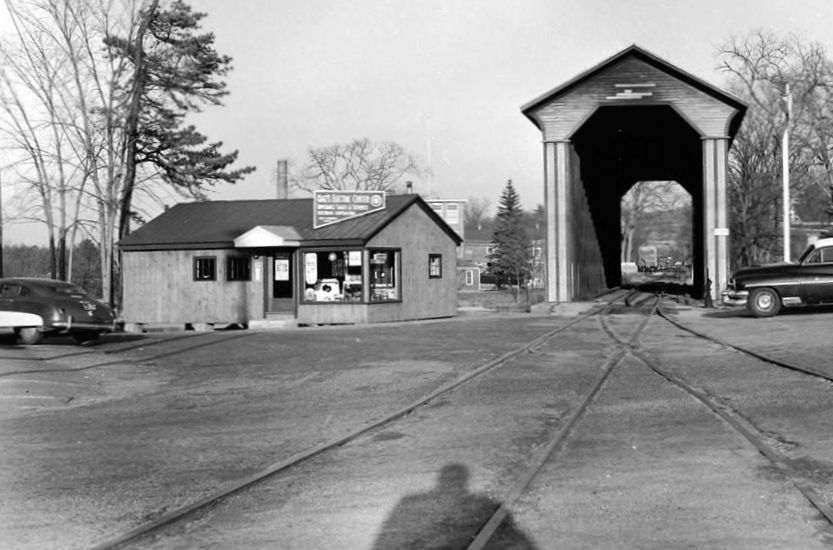 Oat's Electric Center in Goffstown was once the Pinball Hill ski area's warming hut.
Photo from the late 1950s courtesy of the Walker Transportation Collection, Historic Beverly.
In the summer of 2020, Jen Brown posted an inquiry in a Goffstown NH Facebook group. She wondered if anyone had any photos of Oat's Electric shop, "the small building that was precariously perched next to the covered bridge." (She was referring to the covered railroad bridge which until 1976 paralleled the Main Street bridge in Goffstown village.) Rick Kfoury posted pictures of Oat's alongside the bridge, and Arthur Le Blanc said that the building was originally in New Boston. "It was part of the Pin Ball ski area. Now the 4H center. It was moved by Bill Mason for Oat Whipple in the middle 50s."
I knew that Bill Mason was New Boston's road agent for many years. Who was "Oat Whipple"?
Otis B. Whipple (1912-1971) was the man who owned "Oat's Electric," a Goffstown appliance repair shop. Jane Kennedy said that Oat was on the ski patrol at Pinball. Jane also said that her father-in-law Joe Kennedy worked in the coffee/hot dog shop at the ski area.
Jen Brown of the Goffstown Historical Society, who asked the question about Oat's, has a Main Street business just a few yards from where Oat's once stood. Jen, who lives in New Boston, is the granddaughter of Walt Kirsch, the man who owned the Pinball ski area!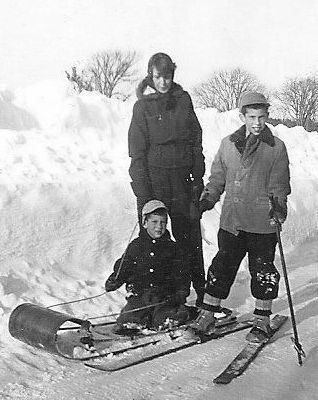 Skip Gomes on skis
Skiing equipment
Skip Gomes stands on wooden skis in this undated photograph, taken near his home on Misty Meadow Lane. Skip's skis are probably representative of what many skiers used on New Boston's hills.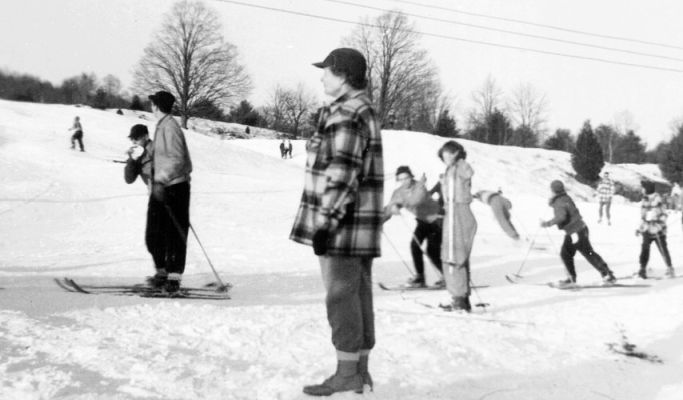 Pinball skiers
If you have memories or photographs of skiing in New Boston, please let me know!
—
Dan R. townfarm@comcast.net