New Boston Historical Society
New Boston, New Hampshire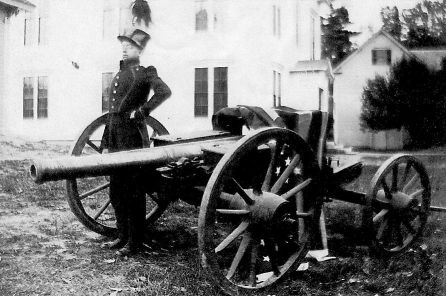 Welcome to the website of the New Boston Historical Society!

Navigating this website
Look under the cannon logo in the top left corner of each page for:

Latest news: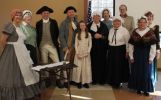 1/02/2015: We added new pages to the Town history page to begin a series featuring old houses.
12/24/2014: Farm Collector magazine features an antique New Boston "crawler" tractor and snow plow.
12/14/2014: The new special exhibit "Then & Now" will be on display at the Holiday Open House. Click here for a preview, or here for Bill Wynne's musical video of the Open House.
11/01/2014: We updated the Event Calendar page with our exciting 2015 presentation schedule.
10/01/2014: We updated the Gold Rush page with an 1861 "Letter from the California Gold Fields" just donated to the Historical Society.
9/25/2014: WMUR-TV's NH Chronicle broadcast a video about the General John Stark Scenic Byway, including New Boston.
7/19/2014: We added a 10-page "History of the New Boston Railroad" to the Railroad page.
6/12/2014: Congratulations to Alessandra Barone, winner of the 2014 Charlie and Rena Davis Memorial Scholarship!
5/16/2014: We added a new page to the Town history: "New Boston's Weathervanes."
4/29/2014: We added a special event to the calendar page for June 22: "Old Timers' Tales - Memories of New Boston".
3/06/2014: New Boston students who will graduate from high school this year and study history next year should note the May deadline for our scholarship application.
1/18/2014: We added a new page to the Town history: "Chills & Pills - New Boston's Doctors."
12/15/2013: Join us Sunday afternoon on 12/15 for our Holiday Open House. See the Event calendar for details.
10/31/2013: We added two new pages for people who prefer patchwork: "Old Quilts" and "New Quilt."
9/20/2013: We added a new page: "Made in New Boston - Businesses from New Boston's Past."
7/29/2013 The Library Edition of genealogy website Ancestry.com is now available at the Whipple Free Library! See details near the bottom of the calendar page under "How to Research Your Family History". Click here for a printable PDF of "Using 'Ancestry Library Edition' at the Whipple Free Library" for instructions.
5/11/2013: We posted photos from the Civil War encampment.
5/01/2013: We added a new page: "Hardtack & Coffee - the Daily Life of a Civil War Soldier."
4/12/2013: New Hampshire Public Radio (NHPR) posted a 7-minute podcast, "New Boston: 250 Years in the Making."
2/12/2013: We added a new page: "From One-Room Schoolhouses to the Village School."
1/15/2013: We added two February events to the calendar page, including the Founder's Day Tea. (Photo by K. Kelley)
11/26/2012: We added a New Boston Gravestones page.
10/28/2012: We added a Bird's-Eye View of New Boston Village page with an aerial photo from Ken Cuneo.
10/21/2012: We added a Gold Rush page based on Bob Todd's presentation about his great-grandfather's California expedition.
7/28/2012: We added a Tavern page about New Boston's hotel on Central Square.
7/03/2012: We added a Mills on the Piscataquog page about New Boston's mills.
6/09/2012: We updated the "About the Farm" page with Oliver Dodge's stories.
4/09/2012: We added a New Boston in the 1700s page about the First Settlements.
2/05/2012: We added a New Boston in the Civil War page in preparation for the February 23 presentation at the Whipple Free Library.
1/22/2012: We created a New Boston postcards page based on a few selections from Ivan Byam's collection of postcards from the early 1900s.




Added 12/15/2011: Test our experimental new Photo Map to display old photos from our collection on a map of New Boston.

The Town history page now has a link to the new Joe English Hill page which discusses the history of Joe English, World War II bombs, and a satellite tracking station. Somehow they're all connected. (Updated 11/29/2013 with memories from the Korean War.)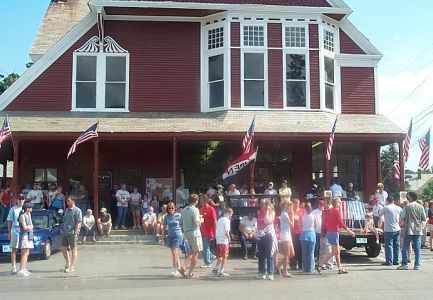 We created a new General Stores page to remember the importance of the village store to life here in New Boston. This page was updated with two photos of the November 30, 2011 auction of Dodge's Store. The store reopened January 11, 2012. (Phil Lavallee photo from July 4, 2009)

July 4, 2011 in New Boston: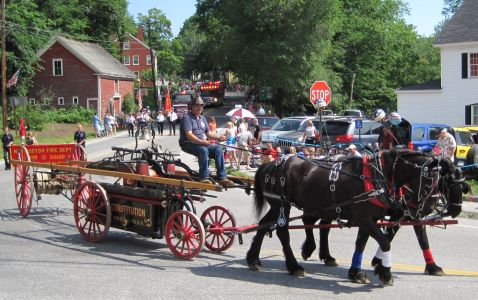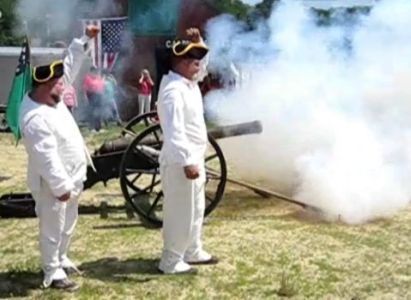 Two items normally on display in the Historical Society museum are brought out every Fourth of July.
-- Constitution #2, the Fire Department's 1851 "hand tub" fire engine, was driven to the fairgrounds by Bob Lapointe for a demonstration. See the Fire & Fire-fighting page for more information.
-- The New Boston Artillery Company exercised the Molly Stark Cannon so we updated the Cannon page with a new video.

Thank you everyone who came to our Open House on May 1, 2011 !!!
See photos of the Open House on Flickr.
Click on Event calendar for upcoming events.

In the Spring of 2011, the Historical Society moved from the Old Engine House to the Wason Memorial Building across from Dodge's Store.

From: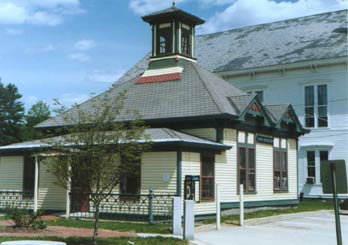 To: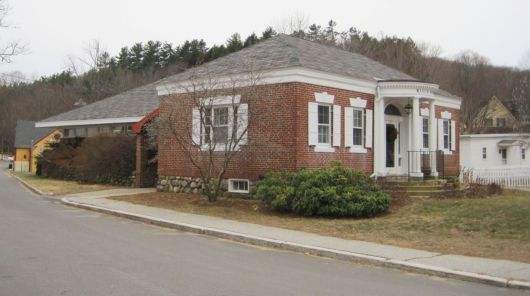 ---
New Boston Historical Society
Wason Memorial Building
2 Central Square
New Boston, NH 03070
Phone: (603) 487-2526 when open
Hours: Thursdays, Noon – 2:00 PM
E-mail: RMoody3415@aol.com (603) 487-3379
Dick Moody, NBHS President
---
Website last updated January 2, 2015.
If you have suggestions or questions about our website, please e-mail the editor, Dan Rothman:
townfarm@comcast.net